ABOUT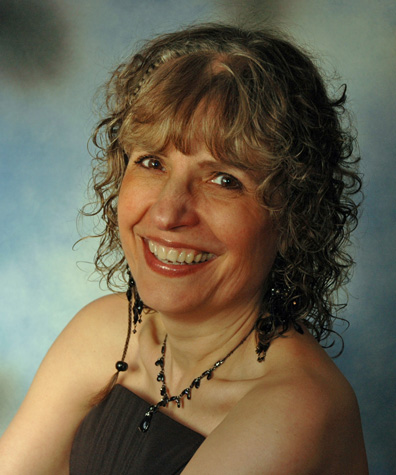 Ermest Wiggins
Susanna Rich is a 2009 Mid-America Emmy Nominee for her poetry in Craig Lindvahl's Cobb Field: A Day at the Ballpark; author of two Finishing Line Press poetry collections~The Drive Home (2009) and Television Daddy (2008); the recipient of the first joint Fulbright and Collegium Budapest Fellowship in Creative Writing; and a Pushcart Prize nominee. She won both the 20th Century America and 21st Century America Poetry contests of Sensations Magazine. Susanna is Professor of English and Recipient of the Presidential Excellence Award for Distinguished Teaching at Kean University in New Jersey.
Susanna is also founder of Wild Nights Poetry Productions, through which she
tours unique staged, one-woman, audience-interactive poetry readings:
STAGED POETRY READINGS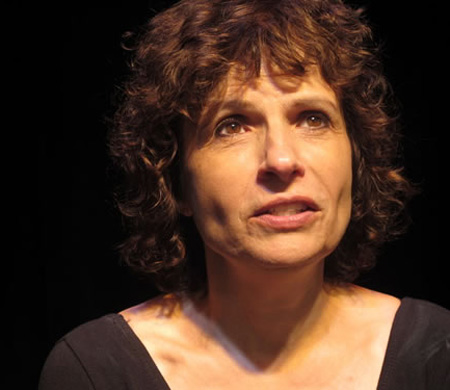 Jo Jochnowitz


ashes, ashes:
A Poet Responds to the Shoah
Producer, Poet, Performer: Susanna Rich
Director: Ernest Wiggins
Production Assistant and Curator: Samantha Jackson
Artist: Jo Jochnowitz
Musician: Don Fast
Support staff: Wendy Temple
Opening: April 11, 13, 14, 2011
Since portraying Anne Frank in her senior class play at Pope Pius XII High School, Susanna Rich has been committed to promoting interfaith understanding and world peace. In this upcoming production, she embodies and enacts the testimonies of Holocaust victims, survivors, and liberators. Weaving the past with the present; poetry with art, music, and stagecraft; this production is remembrance and hope—a vigil for as well as a celebration of human dignity and love.
Artists Jo Jochnowitz and Susanna Rich daily lay bare their souls to see and to speak that which is too hard to see, too hard to speak…our greatest hope is to experience, through the arts, the realities suffered by those who have been the victims of institutionalized ignorance and hate so that there will be no more victims and no more perpetrators.
        ~Dr. Rose Thering, O.P. Holocaust Educator and Activist for Jewish-Christian Dialogue
Please visit Readings and Performances for details of upcoming events.
***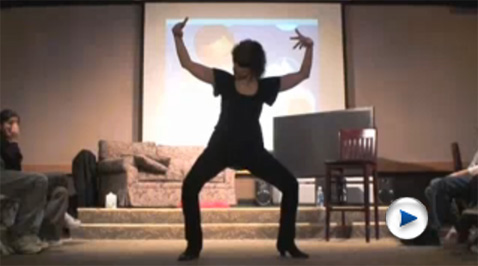 Mitsu Yasukawa for The Star-Ledger


Television Daddy:
A One-Woman, Audience-Interactive, Poetry Experience
Produced, Written, and Performed by Susanna Rich
Directed by Ernest Wiggins
Opened in March, 2008
Chapbook published by Finishing Line Press, 2008
Hip-hopping, twisting, Gregorian chanting, and otherwise surprising the audience, Susanna Rich explores how television becomes surrogate parent, God, lover, friend, and self. Drawing on shared cultural imagery of classic and contemporary programs and personalities, Rich engages a broad spectrum of audience members to recall and to explore their own responses to this pervasive medium of our times.
Susanna Rich's Television Daddy is hilarious, shocking, not to be captured in a few quoted lines about lamb guts, yellow go-go boots, or the rosy red rump of Miss Yes-You-May in Penthouse. This is the dark side of Happy Families and the American Dream, the death's-head behind your TV screen, written and performed by someone who has socked up everything from Lassie to The Addams Family to The Bachelor. Go for it, Morticia—you're dead on!
                                    ~Bill Bridges, The Landscape Deeper In
 Gutsy, gritty, disturbingly real.
~Adele Kenny, Chosen Ghosts
***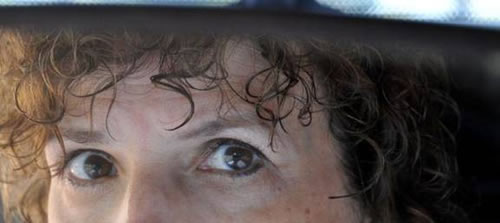 Morton D. Rich


The Drive Home: A Staged Poetry Reading
Produced, Written, and Performed by Susanna Rich
Directed by Ernest Wiggins
Opened in April, 2010
Chapbook published by Finishing Line Press, 2009
In the tradition of On the Road, My Mother the Car, and Thelma and Louise, The Drive Home is a hard-driving road trip about how wheels shape our lives. Susanna Rich transports her audiences from tender memories about the family Dodge, through rollicking responses to 4X4 speed limit huggers, to sassy encounters with Macks. The Drive Home will transform your experience of the road, forever. 
Opening the cover of The Drive Home is like opening the front door to a house party. Patti Smith is blasting on the stereo and William Carlos Williams is in the kitchen discussing how fast cars should go with Sharon Olds...fearless and fun.
~BJ Ward, Poet, Gravedigger's Birthday
Susanna is the Queen of the Sexy Poem. I stand by my shout-out: she fries the footlights!
~Cat Doty, Poet, Momentum
***