News & Reviews
Susanna Rich's 'Ashes, Ashes' tells Holocaust stories through poet's eyes
THE RECORD
WHAT: "Ashes, Ashes: A Poet Responds to the Holocaust."
WHEN: 7 p.m. Monday.
WHERE: Oradell Public Library, 375 Kinderkamack Ave., Oradell; 201-262-2613 or oradell.bccls.org.
HOW MUCH: Free.
FOR MORE INFORMATION: wildnightsproductions.com.
A little girl watching a fresh mass grave being dug. A ballerina summoning up her courage and shooting a Nazi officer, just as she's about to walk into a gas chamber. The beliefs and philosophies of a neo-Nazi.
These are just a smattering of the characters poet Susanna Rich embodies in her poetry performance, "Ashes, Ashes: A Poet Responds to the Holocaust," in honor of Holocaust Remembrance Month. Over the course of an hour, Rich portrays 15 different characters affected by the Holocaust. Rich will perform the show at the Oradell Public Library on Monday.
"We study the Holocaust in history books, but what I do through poetry is make it emotionally present," Rich said.
"Ashes, Ashes" is the third production by Rich and theater director Ernest Wiggins, a Kennedy Center award winner. With their shows, Rich and Wiggins want to make poetry interactive and audience-friendly. They founded Wild Nights Productions together last year.
Their previous two shows, "Television Daddy" and "Drive Home," dealt with decidedly lighter themes: how television and cars shape our everyday lives. "Ashes, Ashes" takes on much darker subject matter, one that Rich has felt a connection with since she was in high school...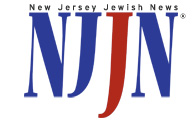 Out of the ashes
Poet finds bright light in a dark subject
Susanna Rich described her show as "a vigil for as well as a celebration of human dignity and love."

If you go
What: "Ashes, ashes: A Poet Responds to the Holocaust"
Where: Little Theater at Kean University, Union
When: Monday, Wednesday, Thursday, April 11, 13, 14, 7:30 p.m.
Cost: Free
Reservations: Call 908-737-SHOW.
by Elaine Durbach
NJJN Bureau Chief/Central
April 6, 2011
The late Sister Rose Thering, the indefatigable campaigner for Jewish-Christian understanding, said, "Our greatest hope is to experience through the arts the realities suffered by those who have been the victims of institutionalized ignorance and hate, so that there will be no more victims and no more perpetrators."
Her comment was made in response to work by poet Susanna Rich and artist Jo Jochnowitz. The two, both teachers at Kean University in Union, first collaborated in 1994 and are doing so again, this time with Jochnowitz's stark drawings of Holocaust images setting the visual tone for Rich's performance of her poems.
Her show, "ashes, ashes: a Poet Responds to the Holocaust," will be offered at the Little Theater at Kean University on April 11, 13, and 14, the week before Passover and two weeks before Yom HaShoa, the commemoration of the Holocaust.
A few weeks ago, Rich invited NJ Jewish News to a rehearsal.
With no costume or set, one moment she was a small girl, bright with hope, the next a Nazi guard shutting down his heart, the next simply an English professor, eager to share.
Even in rehearsal, with interruptions every few lines, she drew her audience with her through those contrasts. And that is precisely what she and director Ernest Wiggins are aiming for.
"The subject matter is so grim, you don't want to make it unbearable for the audience," she said, hopping down from the stage to grab a snack and confer with Wiggins.
Neither of them is Jewish, but Rich's husband, fellow academic Morton Rich, is, and she has deep connections (more.. New Jersey Jewish News--Susanna Rich in ashes, ashes)
***
Painting Words with Ashes
Kean professor, Susanna Rich, performs "Ashes, Ashes" in remembrance of the Holocaust
Issue date: 4/19/11

Enter a theatre, dark yet still warm and inviting. People talk quietly with each other before the show, anxious for the presentation to begin. Then a poet, Susanna Rich, walks down the side aisle and onto the stage, beginning a picturesque, vivid soliloquy on the evening's upcoming literary journey of remembrance.

This past week, from April 11, 13, and 14, 2011, Susanna Rich, a Kean University English, presented her one-woman performance of "Ashes, Ashes: A Poet Responds to the Holocaust" in the University Center's Little Theatre. Throughout the evenings, Rich performed poetry that she had written, themed around the brutal genocide that took place in Europe.

It was a unique and poetically truthful take on the Holocaust, speaking of and for those who survived and those who did not. Through her expressed gratitude of their bravery, the poetry had relayed various accounts and moments in the Holocaust's history from both the victims and perpetrators' point of view. Even the children of those who had survived the genocide were mentioned in her reflections, showing how the tragedy, in some way, affects everyone.

Many of the poems had different plotlines and actions that propelled them forward. Some poems were mellow and dark, such as "Passover". One poem entitled "Adopt-a-corpse" was similar to a high-strung commercial, a dark and sarcastic poem. But others like, "Sorry", were nervous and jarring, reflecting the view of the son of Holocaust survivors as he is traumatized and embarrassed by the memories he has been told. But it was these emotions that Rich wanted to invoke from the audience. Her emotions came out through her poetry, spreading shock, surprise, desperations, anger, fear and hope.

Kirsten Sullivan, a junior special education K-8 major, said "My favorite poem was "Ballerina" because it portrayed a brave, feminist point of view, which is different from the general concepts of the Holocaust."

During a few of the poems, students, faculty and visitors alike could hear the subtle and distant soundtrack of life, giving the auditory illusion of a time and place. The classical orchestras, the raindrops, and sounds of trains were the music that enhanced Rich's words.

"I really liked the performance," Kirsten added. "Dr. Rich took a different spin on covering the Holocaust and I really like that she put herself in some of the victim's positions. She really invested herself into the emotions of the victims."

Susanna Rich was the poet, performer and producer of the "Ashes, Ashes" program. Ernest Wiggins, a Kean theatre professor, was the director. Samantha Jackson, a graduate student, was the production assistant and curator. The photographer was Professor Morton Rich, also a Kean English professor and Susanna Rich's husband.

"Ashes, Ashes: A Poet Responds to the Holocaust" was sponsored by various Kean University departments, including the Human Rights Institute, the Department of English, the Department of Theatre, the Holocaust Resource Center, the Jewish Studies Program, the Master of Arts Program in Holocaust and Genocide Studies, the Women's Studies Program, Kean Stage and the Human Rights Club.

***


Ashes, Ashes, We All Join Together
Kean professor, Susanna Rich, presents Holocaust-inspired poetry
Issue date: 4/12/11 Section: Campus Life

On April 11, 13, and 14, of 2011, Susanna Rich, an English professor at Kean University, will be performing Ashes, Ashes: A Poet Responds to the Holocaust. The performance is directed by Ernest Wiggins, a theatre professor also at Kean. In a series of poems, Rich identifies with those who suffered through the Holocaust and sculpts her poems to speak from their points of view. This show will give students a whole new experience of what poetry is and what it can do for its listeners.

Rich recites her poems by heart, moves around the stage and always works to enhance her audience's experience. Those who have seen her and Wiggins's previous shows, Television Daddy and The Drive Home, all bear witness to her dynamic performances, reminiscing on how their whole experience of poetry has changed.
Rich refers to this show as "training in empathy." She wants her poems to capture the physical and emotional experience of the atrocities that fellow human beings were put through. And the poems do exactly that. Rich identifies and immerses herself with the victims' experiences. As simulated water droplets echo in the background of the rehearsal, the audience can see the passion in her eyes as she prepares and recites her poems. The title of the show refers to the children's song Ring Around the Rosy that was created during to the Bubonic Plague. The final line of this hauntingly innocent song, "ashes, ashes, we all fall down," is what inspired the program's title. Rich chose this title because hate crimes are a plague, and when one occurs in the world, society falls down and one's humanity begins to falls as well.

Dr. Paul Winkler, executive director of The New Jersey Commission on Holocaust Education, recommends Ashes,Ashes as "a vehicle to meet the state mandate for Holocaust/Genocide Studies".


This show is sponsored by Kean University departments, including the Human Rights Institute, the Department of English, the Department of Theatre, the Holocaust Resource Center, The Jewish Studies Program, The Master of Arts Program in Holocaust and Genocide Studies, The Women's Studies Program, Kean Stage and The Human Rights Club.

The opening shows are dedicated to Dr. Rose Thering, a former member of the Kean University Board of Trustees.

Performances take place Monday, April 11, Wednesday, April 13 and Thursday, April 14, 2011 at 7:30 p.m. The location is in the Little Theatre of the University Center at Kean University, Union, NJ.

Students are encouraged to join Professor Susanna Rich for a night of celebration of human dignity and love, even under terrible circumstances. To reserve seats to this spectacular event, email susannarich@gmail.com or call 908-737-SHOW (7469). Group seating is available.

For more information about Susanna Rich, visit www.susannarich.com.




***

The Star-Ledger
Videoreport of The Drive Home: A Staged Poetry Reading - Opening Night
By Michael Monday/Star-Ledger Staff
The Star-Ledger
Blairstown artist driven to bring her words to life on the stage
By Tracy Ann Politowicz/Star-Ledger Staff
March 26, 2010, 6:11PM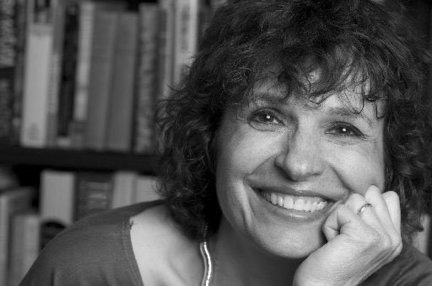 "Do I need more honking?" the curly-haired woman asks with a straight face, leaning forward slightly.
The man sitting opposite her, one of a few other people in the room, replies, "Yes, you should add that." She continues speaking to a larger make-believe audience: "And I want all of you to help me get through this. Can you do a honk? Can you just turn into an audience full of geese?"
Adopting the tone of a TV preacher, Susanna Rich begins reciting her poem about drivers who adhere to the speed limit so strictly, they seem to be hugging it: "May the red wand on my speedometer align, number for number... " Click here to read the entire interview.
***
2009 Mid-America Emmy Nominations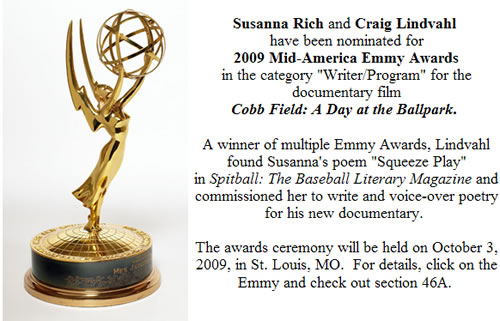 ***
***
Asbury Park's Literary Arts Magazine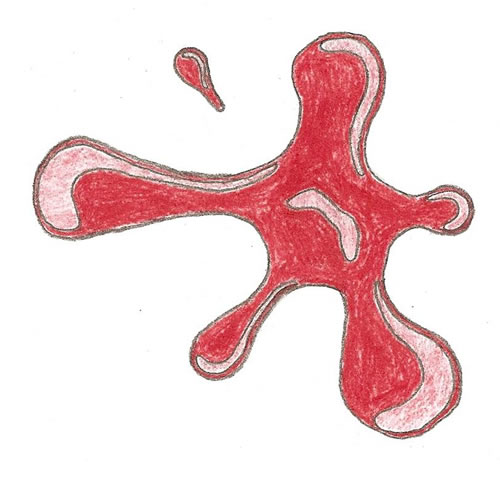 by Dylan Emerick-Brown

Wednesday, October 28, 2009 at 08:04AM
We all remember that doctor who could talk to animals, that spooky family with cheesy surnames, that boy, Beaver, who lived down the street, and how could we forget our first looks into that divorced and dysfunctionally hilarious family other than our own, the Bradys. And for the younger crowd, how about those mutant turtles who learned karate from a rat, or that neighborhood chihuahua and cat, and we can't forget the summer camp led by Ug Lee.
It might sound strange when you think about it, but television has done something bizarre over the decades: it has given millions of people around the world the same childhood memories. Now, this may have the positive effect of bringing us all together on some common, comfortable ground or it could have the destabilizing effect of crumbling individuality. Either way, one poet has begun to delve into this new phenomenon by relating how her childhood memories have affected her life...I mean, how our childhood memories have affected our lives.
Susanna Rich, a poet and professor at New Jersey's Kean University, has created a poetry collection/production called Television Daddy where she, assisted by director Ernest Wiggins and crew, performs a one-woman show. Although, I must stress that this is no poetry performance. Poetry readings have evolved over the decades from simple oral poetry to dub poetry to performance and slam and sound poetry. Now, there is a new form, a nameless form in the evolution that goes beyond performance with it's audience interaction and subtle, therapeutic nature.
But what is so new about television becoming a part of popular culture? It has been in poetry before.
"Television becomes a surrogate...for father, for God, for exploration of self, for love, for relationships," Rich said, "It pulls your attention away from who you really are. It pulls the attention from feeling what you're feeling. Ann Landers said that television has shown us, proved to us that people are willing to look at anything other than each other, and I would add 'ourselves.'"
And not only is television the fulcrum of the production, nor simply the catalyst for a new wave of emotions and poetic inspiration, television is the previous link in the evolutionary chain of expression. When before there was Shakespeare reading his poetry through drama on the stage, now there is television which captures the drama but excludes the poetry. Using the same methods television producers use to gain larger, more general audiences, Rich has used to enrich her poetry reading's effect. Rich has taken the inspiration for her poetry, and almost in a satirical manner, brought drama and poetry back but without the television. Call it poetic justice.
But television has had a profound impact on Rich's life and perception of reality, as it has on ours. "My family is so dysfunctional that you can't even call it dysfunctional because it isn't functional at all. And I'm watching "Lassie" and I'm watching "Father Knows Best" and "My Three Sons" and I'm thinking, 'I'm a horrible person because I have a terrible family,' when the truth is most people have a dysfunctional family."
Since it's debut, her production has gained much attention in New Jersey and is spreading as she takes her one-woman show on the road. Much of her personality and heart-felt words can be seen and experienced in Television Daddy and oftentimes ends in roaring applause from the audience. She has even begun to attract groupies who follow her performances.
When I saw her perform Television Daddy on the Ocean County College campus in Toms River, I couldn't help but be pulled into the performance. Perhaps I wasn't a necessary part of the production but I certainly felt like it. Rich acted beautifully, oftentimes commanding a powerful silence over the audience with her words and expressions. And then, at the snap of a finger or unexpected turn of phrase, she'd have us laughing.
Now, there is a motive for all the hoopla and praise. There is a healing effect on the audience, almost therapeutic. People come not knowing what to expect and leave finding a piece of themselves in the process. My fiancee who watched with me, a self-proclaimed not a poetry person, found it fascinating and entertaining. And the audience aren't the only ones finding solace in the Television Daddy experience. "The biggest moment of therapy is when I say, 'Oh, my God, I'm going to write a poem about that,'" Rich said of the process.
But it really is the universality of her poetry, experiences, and delivery that brings a sense of comfort in the niche that at one point television filled. It makes clear the allure of the box and knots off certain loose threads that might have unravelled in our past, her past. Rich has, in essence, taken the universality effect television has had on us and molded it into expressing herself to us in a way we can all appreciate. This incredibly unique and ingenious concept within poetry has led to her rising success and a new genre within the ever-evolving track of poetry and it's readings.
"Some people say that you have so much courage to reveal those things you're revealing in the poems," Rich said, "and I say, 'wait a minute. I don't think it's about me. It's about humanity. It's about us.'"
***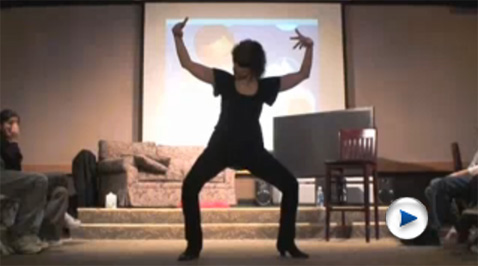 Mitsu Yasukawa's Video Report for The Star Ledger on NJ.com
Click image for link.
***
The Record
Bergen County
Hackensack, NJ
Poet delves into our deep connection with TV
Wednesday, June 3, 2009
BY ROBERT BIESELIN, STAFF WRITER
NorthJersey.com
It's animated but inanimate, often thought intimate but ultimately inert.
The television, an ever-projecting and projected-upon jumble of live wires and lifeless tubes, has been described both as the campfire of our generation — around which we share stories — or our era's version of the lobotomy — through which we systematically get dumber.



DAVID BERGELAND / STAFF PHOTOGRAPHER

"The goal of all this is to bring people to poetry; to make them feel more involved and to show them this wonderful tool of human connection," says Susanna Rich. In a recent book of verse, Susanna Rich offers a third opinion on the medium, one steeped in disciplines psychological, literary and theatrical.

"The whole series of poems explores how television becomes a surrogate for God, for your own father, for a love, for friendship and even for a sense of yourself," said the author of "Television Daddy" and star of the one-woman show of the same name, which she'll perform tonight at Ridgewood Public Library. "Think about [watching] Jay Leno — it takes the place of reflecting on your day."

For Rich, a poet/Fulbright scholar/professor at Kean University, television has been much more than an escape mechanism — though it's been that too at times, especially during childhood.
From the comforts of her Castro Convertible couch, daily programming became "an after-school buddy." Her playmates were Victor Mature, "Clubhouse Gang" host Officer Joe Bolton, Popeye and Betty Boop. Her pet was Lassie. Her family was the Cleavers, the Waltons — both of whom helped her (temporarily) feel like part of a real "all-American family," while estranging her, in a sense, from the reality of life with a working mother and absent father.
"There were all these familial ideals that left me feeling like I was the only one who has a horrible family life," she said.
A few decades later, Rich knows this wasn't really the case. She's using that hindsight to analyze the sensation of network television, and its child-rearing effects.
On the page, she imagines children who sit in waiting for visits from the Beatles. They describe the illusion-shattering experience that was meeting Ralph Waite outside of his John Walton character. They suffer in an emotionally abusive household and wait to be rescued by Lassie, Flipper — anyone.
On the stage, under the direction of Ernest Wiggins, Rich brings these characters and sensations back to life, deviating from the normal poetry reading format to give a performance in tune with Yeats' definition of art as "a fountain jetting from the entire hopes, memories and sensations of the body."
And so, the body, not the podium, Rich said, is the centerpiece of "Television Daddy," a work infused with hip-hop beats, Gregorian chants, a multi-purpose scarf and lots of audience interaction.
"I really feed off the [audience's] energy," she said, specifically so during a particular poem about child abuse. "When I look into the eyes of someone and I see them tear up, that helps me make my performance more authentic."
This, said Rich, is the point: to initiate a real interaction absent from anything passed between the glow of a television screen and a Castro Convertible couch.
"The goal of all this is to bring people to poetry; to make them feel more involved and to show them this wonderful tool of consciousness and human connection which is poetry &md and for that matter, television."
---
Xenium Magazine
by Kristin Bapst
June 30, 2009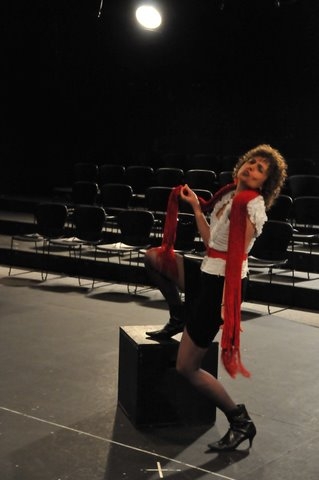 Photo courtesy of Morton D. Rich
New Jersey poet Susanna Rich roused an array of emotions in her one-woman audience interactive show, Television Daddy, at Ridgewood Library on June 4, 2009.
Ranging from hilarious to heart-wrenching, the poetry from her chapbook is inventive and meticulous — the performance, even more so. Stills from classic television shows, sound clips, and even a hiphop backbeat accompanied Rich in her poetic production. She had viewers "Snap! Snap!" like Morticia in The Thing — a poem that features the ultimate clan of eccentrics, The Addams Family. She also sings snippets of Beatles songs in Imagine — where a young girl fantasizes about the Fab Four whisking her away.
A multiple-attendee who has seen the show on a few occasions, I can suggest that the show never stops affecting you...every performance is like seeing it for the first time. Susanna Rich leaves an imprint on her viewers — attaching tangible, lasting emotions and memories of the poems to the songs and media she implements.
Still revved after a rest stop in Ridgewood, Rich slides behind the wheel for The Drive Home.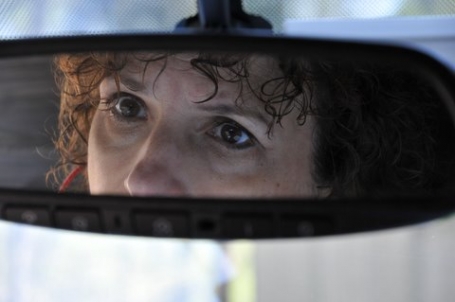 Photo courtesy of Morton D. Rich
It was described by poet BJ Ward as " ...opening the front door to a house party. Patti Smith is blasting on the stereo and William Carlos Williams is in the kitchen discussing how fast cars should go with Sharon Olds". Diane Lockward also stated, "Whether in a Prius, Pontiac, Chevy, or Ford, Susanna Rich skillfully navigates the 'hard road of life' ... In carefully honed lines and stanzas, she combines humor with utter seriousness and blasphemy with reverance for all things human."
With multi-faceted themes of cars and driving, Rich once again captures and embraces human experience with raw emotion and honesty. Poet Charlotte Mandel commented, "She [Rich] is fearless in her willingness to engage themes beyond surface comfort — a terrorist's hands, a daughter's rebellion, societal cruelties — and the redemption of love."
In Rich's own words, "In the tradition of On the Road, My Mother the Car, and Thelma and Louise, The Drive Home puts us in the driver's seat. Poem after poem makes the car a faithful companion and symbol for the journey of finding what's most genuine in life...love, belonging, and laughs along the way. This book is about family, freedom, power, and the poignancy of never being quite at home."
The Drive Home is available for presale through Finishing Line Press (http://www.finishinglinepress.com/) — it is well worth reading, whether you're a poetry connoisseur or just looking to explore the genre — Susanna Rich is a poet that makes her writing accessible to nearly anyone and inspires others to take risks in their own work.
Reviews featured on the chapbook — courtesy of Susanna Rich
Photos courtesy of Morton Rich
REVIEW BY KRISTIN BAPST Xenium Magazine
________________________________________________________________________
Reviews
Gilda Radner meets Lily Tomlin meets Lauren Bacall meets Marlene Dietrich!

~Mikael Cramer, Songwriter
There are a million people who can string together colorful words into poetry. But they don't leave you with illuminations of your own life and a catch in your breath. Here's Susanna, who does it all ...

~Bill Bridges, Author, The Landscape Deeper In
Susanna Rich's poems wholeheartedly embrace life's contradictory nature. Lyrical, elegiac, and sometimes touched with determined humor, they are poems imbued with a capacity for wonder and joy that resonates with the passion and pain of human experience. Expansive in context and character, Rich's poems are infinitely genuine, profoundly informed by spirit and heart.

~Adele Kenny, Poet, Chosen Ghosts; Poetry Editor, Tiferet
Whether in a Prius, Pontiac, Chevy, or Ford, Susanna Rich skillfully navigates the "hard road of life," calling on old boyfriends, travelling the tricky terrain of family, and revisiting long-ago baseball games, kitchens, shoe stores, and funeral parlors. In carefully honed lines and stanzas, she combines humor with utter seriousness and blasphemy with reverence for all things human.
~Diane Lockward, Poet, Temptation by Water
Susanna Rich creates poetry of sensory language disciplined by intelligence. She is fearless in her willingness to engage themes beyond surface comfort-a terrorist's hands, a daughter's rebellion, societal cruelties-and the redemption of love. Hers is a poetry of quest-her imaginative vision fuses with what is perceived so that everyday markings of contemporary culture enter unexpected planes of revelation.

~Charlotte Mandel, Poet (Sight Lines; The Life of Mary);
Editor, Saturday Press
Susanna Rich's poems engage the reader with both authority and benevolence. She is a master of detail and her objects of attention, sometimes humorous, sometimes chilling, all become fertile ground for her generous perspective. These are the poems of a woman at home with language, an accomplished writer who invites us into her heart.

~Ed Romond, Poet, Dream Teaching
Opening the cover of The Drive Home is like opening the front door to a house party. Patti Smith is blasting on the stereo and William Carlos Williams is in the kitchen discussing how fast cars should go with Sharon Olds...fearless and fun.
~BJ Ward, Poet, Gravedigger's Birthday
A dynamic performer, Susanna electrifies and inspires her audiences with a deeper love of poetry and its possibilities.

~A. S. Wolfbank, Cultural Attaché, Budapest
Copyright 2008-Present